Happy new week friend, i believe you enjoyed the weekend so, its time to continue working :). As for me, i was indoors throughout reading my books in preparation of my remaining papers.
I have another big guest in the house today and, she is someone you might have known because, she's been everywhere:). I'm talking of the person of Anna Fox, i invited her to share this awesome post with you because, I've read some of her posts and found them really amazing, take a look at her guest post at Jane Sheeba's blog below……
Anna's Guest Post: Blogging on ProbloggingSuccess.com 
So, i will leave the floor open for Anna right now so, just enjoy her tips for now, you will read more about her at the end of the post via her Bio. Anna Fox
Even as Facebook, Twitter and a handful of other social media networks sit atop the pile as far as popularity goes, Google's own Google+ network has continued to grow, both in user population and usefulness, providing a prime opportunity for bloggers to step up their promotion and marketing game outside of the social comfort zone.
Whether you've already gotten started on Google+ or you've long shunned it as being less useful and populated than its much larger competitors, there is a wealth of knowledge and opportunity to be found there if only you to know where to look and who to team up with. To that end, here are eight internet marketing Google+ circles to join for effective promotion of your blog: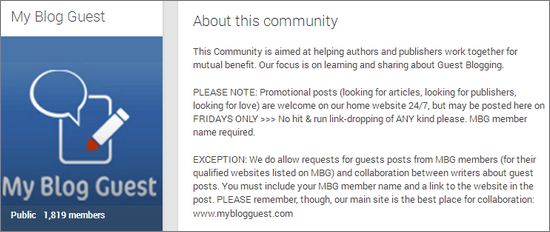 The official Google+ community of the popular MyBlogGuest service and resource, this is one of the first communities on the network that you should join where promoting your blog is concerned. Besides giving you insight into the MyBlogGuest system itself – a system that allows you to contribute to other blogs for the sake of recognition and backlinks even while inviting others to contribute to your own blog – you'll also find a great deal of resources and discussion centered on what it takes to get your blog to the top of search engine rankings, and the minds of your readers.
Getting ahead in the blogging world requires taking advantage of social media, and the crew behind Viral Content Buzz have the inside information that you need to do just that. Besides promoting and detailing their own service that allows you to trade social media likes and shares with other bloggers, the Viral Content Buzz community on Google+ also has a dash of general marketing info and discussion surrounding the same to offer.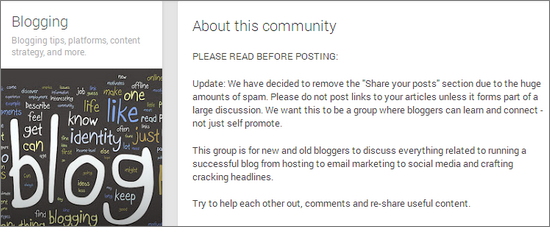 Catering to bloggers of all kinds, from professional types to those of us who write from a cozy corner of our living room, the simply-named Blogging community on Google+ plays host to more than 7,500 members, each of them bringing something unique to the table as far as discussion is concerned. For their part, the community's administrators are always on the hunt for useful information to share, making this a very well-rounded way to get all of the promotional insight that you – and your blog – need on a daily basis.
4. WordPress and Blogging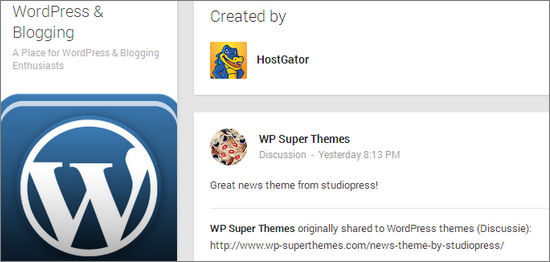 While it's not a certainty, it's very likely that, if you're a blogger, you use the WordPress platform to get your words out to the public, making the WordPress and Blogging community on Google+ a great place to turn for advice on the particulars of publishing within the world's most popular blogging platform. Created and hosted by the team behind HostGator, you'll find access to everything from promotional materials to a heads up on the latest themes and plugins, updated daily.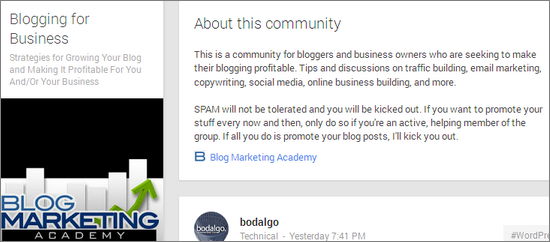 No matter your original goal when launching your blog, it's quite likely that your mind turned to the idea of profit before too long, and that's exactly what the promotional material found at the Blogging For Business Google+ community is designed to help you to do. From growing your audience to taking advantage of your current traffic, you'll find all of the tips and information here that you need to promote and monetize your content to the fullest.
Being a successful blogger means turning your content into traffic, a different endeavor altogether than an attempt to push a product or service, and the people behind the Content Marketing Google+ community know this better than anyone. More than 2,000 members spend their time here discussing content marketing opportunities, the effect that social media has on pushing articles, and much more, with every word aimed at helping to make you a more effective marketer and promoter for your blog than ever before.
Join nearly 1,000 of your colleagues at Google+'s Internet Marketing community, a place for bloggers and marketers to join forces in sharing their wisdom and Content Marketing to be, quite simply, better at what they do. With a landscape that is constantly evolving, internet marketing demands both know-how and a cutting edge attitude to stay on top of things, allowing you to leverage everything from email lists to social media, and the information that you'll find here aims to make you better at every promotional tactic that you undertake.
When you work for a firm, whether it be big or small, you typically have at least one person on hand to take care of marketing for you; when you work for yourself as a lone blogger, however, that on us is on you. Given the rigours of that job, and any other that involves someone in a position of being self-employed, the Entrepreneurs / Self-Employed Google+ community is a great place to turn for marketing tips and tricks of all kinds, directly from the people who know them best.
There you have it all from Anna Fox. Believe me, i really enjoyed this post. The truth right now is that i don't belong to any circle on Google plus but, I'm joining all these circles immediately.
If you have any recommendation or questions regards to this post, please share it with us on the comment section, I'm sure Anna will be there to respond to us all :).
Thanks and, don't forget to tweet and share this post with your friends out there. May we all have a very wonderful and productive week…… Amen.